INTERNATIONAL NEWS:

The latest version of the HL7 FHIR standard (R5) was published on March 28th. Although it contains no new normative content, and is technically a trial release, there are a significant number of new resources (giving an overall total of 158) and the maturity level of many of the most-commonly used resources has increased. We would be happy to discuss the potential use of this new release within New Zealand with potential implementers as well as receiving feedback from the broader community on the roadmap for the next major release (R6).
For those continuing to use Release 4, please note that version of the specification is now available at http://hl7.org/fhir/R4/. The R4B sub release can be found at http://hl7.org/fhir/R4B/.
NZ WORK GROUP NEWS:
Towards the end of last year, we published the second version of the HL7 FHIR NZ Base Implementation Guide. This was the result of many months of diligent work by our HL7NZ FHIR® Implementation Work Group, with broad sector representation.
This Guide contains the base FHIR implementation rules for New Zealand (Extensions, Profiles, Identifiers, and Terminologies). It is an 'abstract' artefact from which all other FHIR Implementation Guides in New Zealand may be derived, and we hope that it will continue to be a valuable resource for the local FHIR community.
As it is a 'living' artefact, work on the next version commenced last month, and the Work Group continues to hold regular, one-hour meetings on Fridays at 12:00pm. All interested parties are welcome to attend these meetings – further details are available on our Web Site.
In response to questions we receive about FHIR adoption in Aotearoa New Zealand, we recommend these sources of information…
Kiwis on FHIR on our Web Site – all additions and updates gratefully received!
Hira Marketplace (Te Whatu Ora) includes a list of APIs for key health information services, and digital services that support or help use health information and data.
UPCOMING EVENTS:
MedInfo 2023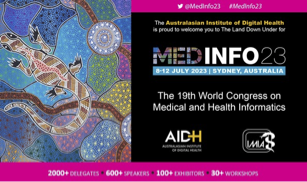 Join industry experts from around the world on standards, interoperability, data modelling and data access. Many of the various workshops and presentations will feature HL7® FHIR® and SNOMED CT®, New Zealand's key standards for interoperability, and their use in the International Patient Summary. There will also be case studies around digital health design and co-design, including artificial intelligence, health equity and digital interventions. Early Bird registrations close on 14th April 2023. We hope to see as many Kiwis as possible join HL7 New Zealand at this marquee event in the international digital health calendar.
Digital Health Week 2023
Make sure to reserve your spot at New Zealand's premier health information technology conference, Digital Health Week. HL7NZ will be presenting as part of a pre-conference workshop again this year and hosting a stand in the Exhibition Hall.