HL7NZ is the New Zealand Affiliate of Health Level Seven International (HL7®), the global developer of standards for the interoperability of health information technology with members in over 55 countries.
HL7NZ is a 'Not for Profit' incorporated society focused on current and emerging HL7® standards, with strong relationships to all other related healthcare IT standards used in New Zealand.
HL7® FHIR® NZ Base Implementation Guide – Ballot Invitation
The HL7 New Zealand FHIR Implementation Work Group invites you to participate in a ballot on the first version of the HL7® FHIR® New Zealand Base Implementation Guide. This FHIR R4 Resource contains the base FHIR implementation rules (notably extensions, identifiers, and terminologies) for New Zealand. It is an 'abstract' artefact from which other FHIR Implementation Guides in this territory may be derived. It is intended to be a 'living' artefact that will be enhanced and maintained, based on feedback and usage experience from the FHIR Implementation Community mainly, but not restricted, to within New Zealand.
For more information, please read here.
Winter 2021 Update
The past few months have been a busy period in the world of HL7 Standards Development. HL7 International recently held its May Working Group Meeting and 27th FHIR Connectathon. These events were attended by a combined total of over 1,000 worldwide participants but, due to COVID-19, the location was, once again, the virtual Whova platform.
Two new versions of the FHIR Standard have gone to ballot – R4B (a sub-version of R4 containing new content and non-breaking changes) and the first draft of R5. While we expect that R4B will be adopted in New Zealand fairly swiftly, the final version of R5 is unlikely to be published until well into 2022 and its implementation will require broad consensus among the local community.
Further updates on HL7 International activity can be found in the May 2021 Edition of HL7 International News and the HL7 International Annual Report. The later focuses on Re-Envisioning HL7 – an initiative designed to ensure that the organisation remains focused, agile, globally-relevant, community-oriented and sustainable.
Locally, the HL7NZ FHIR® Implementation Work Group continues to work on the Base NZ FHIR Implementation Guide. This Group holds fortnightly, one-hour meetings on Fridays at 12:00pm with the aim of balloting and publishing a first version by the end of Q3 this year. All interested parties are welcome to attend these meetings – further details are available here. With the allocation of funding to the National Health Information Platform (nHIP/HIRA) in the recent budget, this work will produce a valuable resource for that project.
This month, we are also planning to resume our series of one-hour lunchtime webinars on topics relating to the implementation of FHIR® with a presentation from Medtech Global on their FHIR Platform ALEX. Further details will be available shortly.
Autumn 2021 Update
The Board of HL7 New Zealand (HL7NZ) recently held its annual face-to-face meeting at the offices of the Clanwilliam Group in Auckland to determine our main areas of focus for the coming year. Agreed-upon goals are to produce a Base FHIR Implementation Guide for New Zealand, further FHIR-related education and grow our community of members and partners.
The HL7NZ FHIR Implementation Work Group held its first meeting of the year on February 19th to re-commence work on the Base Implementation Guide. The Group will now hold fortnightly, one-hour meetings via ZOOM on Fridays at 12:00pm with the aim of balloting and publishing the first version by the end of Q3 this year. All interested parties are welcome to attend these meetings – further details are available here.
Christmas Message from HL7NZ

At the end of what might best be described as a challenging year for everyone, I sense that most of us are now looking forward to the upcoming break with a greater sense of relief than ever! Fortunately, thanks to world-class governance and our advantages of location and size, New Zealand is in a better position than almost any other country to enjoy the holiday season.

For this HL7 Affiliate, the year has concluded on an optimistic and positive note. Our Membership continues to grow as more and more organisations, in all parts of the Sector, begin to implement HL7® FHIR® R4; following the clear direction provided by the Ministry of Health and initiatives from key members of the application supplier market. Together, we have the basis of a community that can provide a conformant and consistent implementation of FHIR that will facilitate interoperable information exchange as a means of improving healthcare outcomes.

Naturally, we have missed meeting our members in person, but virtual communication platforms have enabled us to maintain regular contacts with the local community. Internationally, this has been far more of a challenge: for more about this, and a longer account of 2020 – as viewed by HL7 New Zealand – I refer you to my recent Chairman's Report to the HL7 NZ AGM.

Looking forward to the New Year, we are planning to resume our series of monthly, 'NZ on FHIR Webinars' in February and are seeking suggestions for topics. In particular, we invite those who are developing FHIR APIs to present their work to our Membership as a whole. We also encourage local implementers to participate in the worldwide FHIR community on Zulip which includes a stream dedicated to New Zealand.

Finally, I would like to extend sincere thanks to all our members and other industry partners for their support and engagement in the past year and I hope that you and your families enjoy a well-earned Christmas and New Year break within the relatively safe confines of beautiful Aotearoa New Zealand.
Peter Jordan, Chairman HL7 New Zealand
HL7 New Zealand – Annual General Meeting 2020 Report
The 2020 Annual General Meeting was held on Thursday 26th November at 3:00pm at the offices of the Clanwilliam Group in Auckland. Eight members of the previous Board Members were re-elected along with Derek Buchanan, Michael Hosking, Anna-Marie Scroggins (Health Alliance) and Matt Valentine. The outgoing Board Members – who all voluntarily stepped down after huge contributions – were Karen Blake (Health Alliance), Martin Entwistle, David Fallas and David Hay (Chair Emeritus).
The Chairman's Annual Report, presented to the Meeting, can be found here.
At the first meeting of the new Board, held directly afterwards, the following officers were unanimously elected for two-year terms: Peter Jordan (Chair) and Linda McKay (Secretary). Peter Sergent (Vice Chair) and David Moorhouse (Treasurer) will continue to serve in their current positions having been elected for two-year terms in November 2019.
HL7 New Zealand Signs MoU With HISO
A Memorandum of Understanding (MoU) between the Health Information Standards Organisation (HISO) and HL7 New Zealand (HL7NZ) was signed on 5th November 2020. The MoU exists to recognise the respective roles of both organisations and the ways in which they can work together to use standards for the good of interoperability in the New Zealand health and disability system, and to play our part in the international standards community.
HL7NZ Webinar – HL7® FHIR® – Foundation Topics for Non-Developers
Many thanks to those of you who attended this Webinar on July 14th. We hope that you found it to be useful; certainly, we have received some positive feedback from participants. For those wishing to explore links in the presented material, or who were unable to attend the presentation can be viewed here.
This was the first in a series of Webinars that we are planning to present around HL7 FHIR Implementation in New Zealand, so please look out for related emails in the coming weeks. The next session will probably focus on extensions to FHIR for local use; however, we would welcome any suggestions from Members as to any future topics that they would like us to cover and, in general, as to other ways in which the FHIR Community in New Zealand might collaborate.
HL7 New Zealand Executive Board
HL7 NZ mid-year seminar 2020 – Via WEBINAR

Many thanks to everyone who attended this Webinar on April 28th, we hope that you found it an informative and enjoyable event.
All the presentations are now available for you to download and view at your leisure. The last two hours of the event can also be viewed here.
We are hoping to offer further Webinars in the coming months and would be delighted to hear suggestions as to the topics that you would like us to present.
HL7 Sydney 2020 International Conference
& Working Grouping Meeting
Sunday – Friday, February 2-7, 2020 Sydney, Australia
Official event site: hl7.sydney
Report from our attendees was published on the HL7 WGM Reports page.
Our Chair Peter Jordan provided regular updates of this event. Read here.
Highlights from 2019
Chairman's Christmas Message 2019
HL7NZ 25th Anniversary Award was presented to Sysmex New Zealand as part of the Digital Health Week which took place at Claudelands Events Centre in Hamilton 19-22 November. HL7 standards have been used in New Zealand for 25 years and throughout that period, Sysmex New Zealand has consistently implemented these standards in their products, evangelised HL7 standards in the broader New Zealand digital health community and offered continuous support for the local HL7 Affiliate – known, since 2004, as HL7 New Zealand.
HL7NZ held its Mid-Year Seminar on 19 June with an excellent attendance…read post seminar report here
International News… Announcements from the Atlanta WGM
HL7 New Zealand is pleased to announce that one of its founding members, Martin Entwistle, has been elected as a Fellow of HL7® International in recognition of his outstanding commitment and sustained contribution to HL7 International over a fifteen-year period. Martin was inducted into the HL7 Fellows Programme at September's Working Group Meeting in Atlanta, Georgia, USA.
Also announced at this meeting was the result of recent elections held for the HL7 International Board of Directors and we're delighted to report that HL7 New Zealand Chair, Peter Jordan was elected to the position of Affiliate Director. Peter will become the first New Zealander to be represented on this Board when he commences a two year term on January 1st, 2020.
Further details of the Working Group Meeting, attended by a record number of 778 participants, can be found on the HL7NZ Web Site.
More Information on HL7NZ activities
Need more information or have questions you want answered, email us at admin@hl7.org.nz.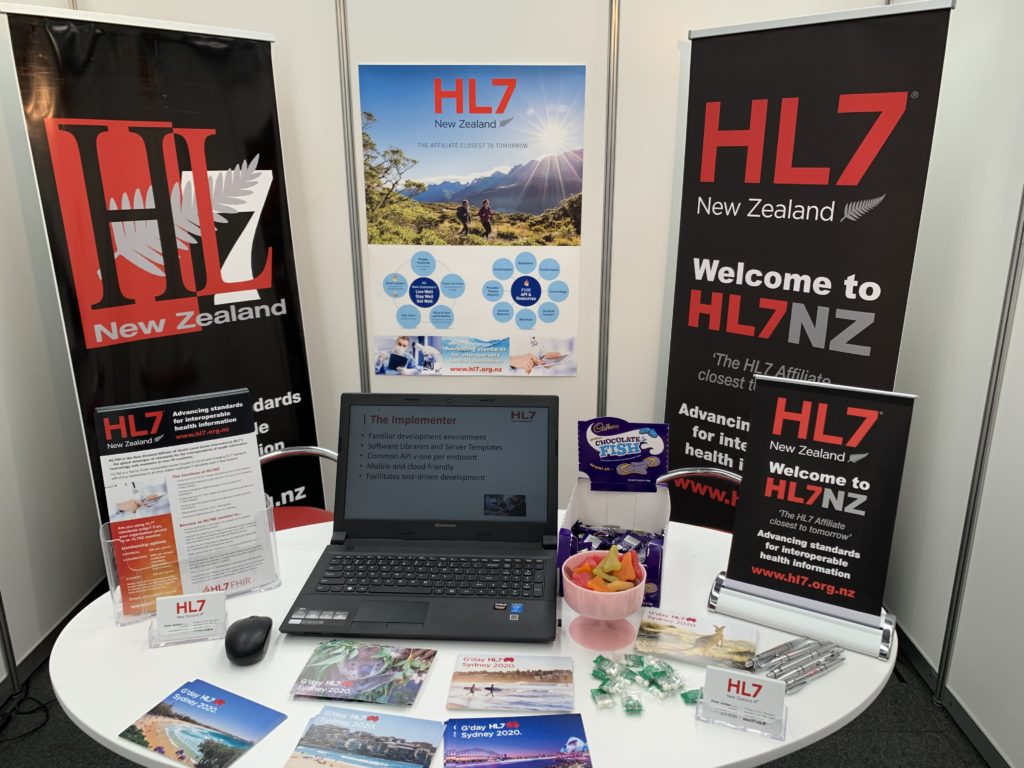 Featured events