HL7NZ is the New Zealand Affiliate of Health Level Seven International (HL7®), the global developer of standards for the interoperability of health information technology with members in over 55 countries.
HL7NZ is a 'Not for Profit' incorporated society focused on current and emerging HL7® standards, with strong relationships to all other related healthcare IT standards used in New Zealand.
HL7NZ Webinar – HL7® FHIR® – Foundation Topics for Non-Developers
Many thanks to those of you who attended this Webinar on July 14th. We hope that you found it to be useful; certainly, we have received some positive feedback from participants. For those wishing to explore links in the presented material, or who were unable to attend the presentation can be viewed here.
This was the first in a series of Webinars that we are planning to present around HL7 FHIR Implementation in New Zealand, so please look out for related emails in the coming weeks. The next session will probably focus on extensions to FHIR for local use; however, we would welcome any suggestions from Members as to any future topics that they would like us to cover and, in general, as to other ways in which the FHIR Community in New Zealand might collaborate.
HL7 New Zealand Executive Board
HL7 NZ mid-year seminar 2020 – Via WEBINAR

Many thanks to everyone who attended this Webinar on April 28th, we hope that you found it an informative and enjoyable event.
All the presentations are now available for you to download and view at your leisure. The last two hours of the event can also be viewed here.
We are hoping to offer further Webinars in the coming months and would be delighted to hear suggestions as to the topics that you would like us to present.
HL7 Sydney 2020 International Conference
& Working Grouping Meeting
Sunday – Friday, February 2-7, 2020 Sydney, Australia
Official event site: hl7.sydney
Report from our attendees was published on the HL7 WGM Reports page.
Our Chair Peter Jordan provided regular updates of this event. Read here.
Highlights from 2019
Chairman's Christmas Message 2019
HL7NZ 25th Anniversary Award was presented to Sysmex New Zealand as part of the Digital Health Week which took place at Claudelands Events Centre in Hamilton 19-22 November. HL7 standards have been used in New Zealand for 25 years and throughout that period, Sysmex New Zealand has consistently implemented these standards in their products, evangelised HL7 standards in the broader New Zealand digital health community and offered continuous support for the local HL7 Affiliate – known, since 2004, as HL7 New Zealand.
HL7NZ held its Mid-Year Seminar on 19 June with an excellent attendance…read post seminar report here
International News… Announcements from the Atlanta WGM
HL7 New Zealand is pleased to announce that one of its founding members, Martin Entwistle, has been elected as a Fellow of HL7® International in recognition of his outstanding commitment and sustained contribution to HL7 International over a fifteen-year period. Martin was inducted into the HL7 Fellows Programme at September's Working Group Meeting in Atlanta, Georgia, USA.
Also announced at this meeting was the result of recent elections held for the HL7 International Board of Directors and we're delighted to report that HL7 New Zealand Chair, Peter Jordan was elected to the position of Affiliate Director. Peter will become the first New Zealander to be represented on this Board when he commences a two year term on January 1st, 2020.
Further details of the Working Group Meeting, attended by a record number of 778 participants, can be found on the HL7NZ Web Site.
More Information on HL7NZ activities
Need more information or have questions you want answered, email us at admin@hl7.org.nz.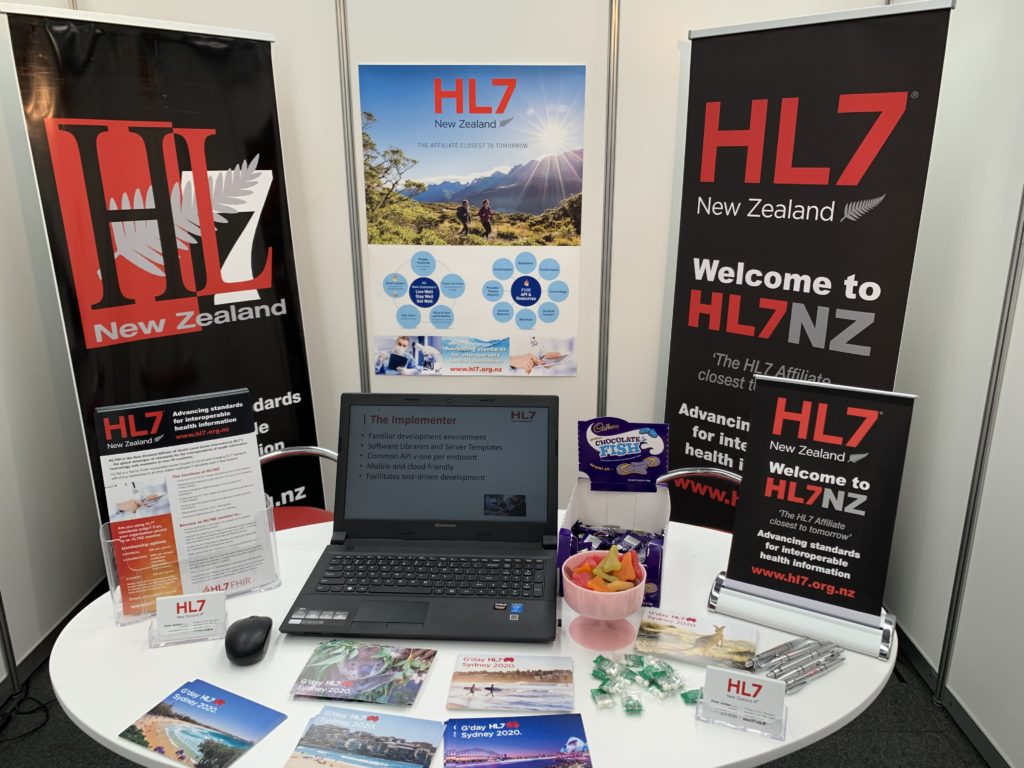 Featured events
HL7 NZ mid-year seminar 2020 – Via WEBINAR
-
Many thanks to everyone who attended this Webinar on April 28th, we hope that you found it an informative and enjoyable event. All the presentations are now available for you to download and view at your leisure. The last two hours of the event can also be viewed here. We are hoping to offer further Webinars in the […]
SNOMED CT® Events
-
International: SNOMED International Business Meetings and Expo: 27 Oct – 1 Nov 2019 – Kuala Lumpur, Malaysia New Zealand Events SNOMED CT®  Developer Training Day: 6 Nov 2019 – Christchurch. Contact standards@health.govt.nz for free registration NOW FULLY SUBSCRIBED  SNOMED CT® Developer Training Day: 7 Nov 2019 – Auckland. Contact standards@health.govt.nz for free registration NOW FULLY SUBSCRIBED
NZHIT Event: FHIR for Implementers in New Zealand
-
NZHIT hosted the one-day workshop in Christchurch, "FHIR for Implementers in New Zealand" on 29 August 2019. The event information below is from the event website: https://www.nzhit.nz/event/fhir-for-implementers-in-new-zealand-you-need-to-attend-this-one-day-workshop You need to attend this one-day workshop if you're planning, undertaking or want to know more about FHIR implementation.HL7 FHIR is the healthcare interoperability standard that has achieved […]