At the conclusion of an exhausting year and, almost unbelievably, another decade, it seems fitting to provide a just a few personal highlights and point those interested in a longer account of 2019 – as viewed by HL7 New Zealand – to my recent Chairman's Report to the HL7 NZ AGM.
HL7® FHIR® R4 – THE standard for creating Digital Health APIs, case closed – there is no viable alternative; adoption of international standards is the critical, pre-condition for interoperability.
Increased involvement of clinicians and patients in the development and implementation of HL7 standards – essential members of the community-based approach that has replaced the top-down model disrupted by FHIR.
Digital Health Week NZ – fantastic event in NZ's finest city (slight hint of bias from this Hamiltonian!); now the leading health informatics conference in the Southern Hemisphere.
National Health Information Platform (nHIP) – this year's most promising newcomer; plenty of challenges ahead, but the logical design is an excellent start.
NZ ePrescription Service – finally reaching 'critical mass' and increasingly used as a major data asset by the Sector; it's been a long and hard road!
HL7NZ Web Site – new platform, branding and regularly-updated content; now positioned to be the hub for the local HL7 standards community.
Hence, in general, it's been a positive year – the major exception being that the one gift that I requested (back in January) is unlikely to be delivered by Santa. All I really wanted for Christmas was access to my own digital healthcare record via a FHIR API. My carefully, coded primary care record, now sits securely (I trust) on a cloud server…so in 2020, please set my data free or, to quote ePatient. Dave de Bronkart…'gimme my damn data'.

Finally, on a more festive, note, I'd like to extend sincere thanks to all of our members and benefactors (notably the Digital and Data Services Team at the Ministry of Health) for their support in the past year and I hope that you and your families all enjoy a well-earned Christmas and New Year break. I look forward to continuing to work together as we strive to improve healthcare outcomes via interoperability in the new decade!

Seasons' Greetings,
Peter Jordan, Chairman HL7 New Zealand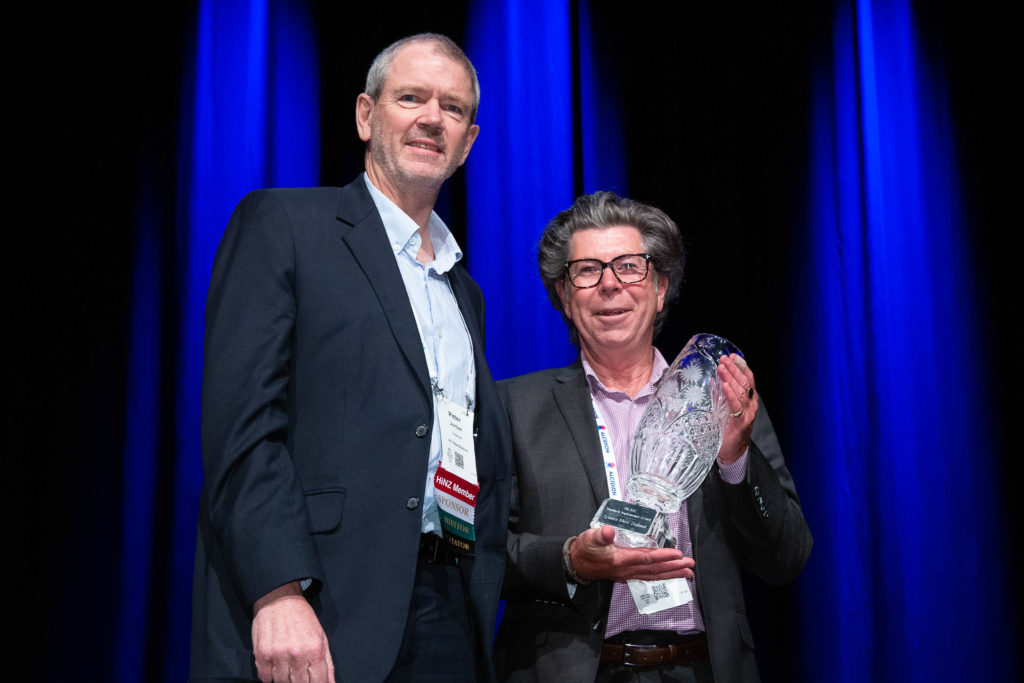 HL7NZ 25th Anniversary Award was presented to Sysmex New Zealand as part of the Digital Health Week which took place at Claudelands Events Centre in Hamilton 19-22 November. HL7 standards have been used in New Zealand for 25 years and throughout that period, Sysmex New Zealand has consistently implemented these standards in their products, evangelised HL7 standards in the broader New Zealand digital health community and offered continuous support for the local HL7 Affiliate – known, since 2004, as HL7 New Zealand.


The 2019 Annual General Meeting was held on Wednesday 20th November at 12:30 pm at the Claudelands Event Centre, Hamilton, during Digital Health Week NZ.  Eleven of the previous Board Members were re-elected along with Koray Atalag (The Clinician) who replaces Graeme Hibbert. The Chairman's Annual Report, presented to the Meeting, can be found here.
At the first meeting of the new Board, held directly afterwards, the following officers were unanimously elected for two year terms: Peter Sergent (Vice Chairman) and David Moorhouse (Treasurer). Peter Jordan (Chairman) and Linda McKay (Secretary) will continue to serve in their current positions having been elected for two year terms in November 2018.
According to the Microsoft Azure blog article on 21 October 2019, The Azure API for FHIR® is released in general availability to all Azure customers, with which a developer, researcher, device maker, or anyone working with health data is empowered with a turnkey platform to provision a cloud-based FHIR service in just minutes and begin securely managing PHI data in Azure.


HL7 New Zealand – Press Release: September 30, 2019
HL7 New Zealand is pleased to announce that one of its founding members, Martin Entwistle, has been elected as a Fellow of HL7® International in recognition of his outstanding commitment and sustained contribution to HL7 International over a fifteen-year period. Martin was inducted into the HL7 Fellows Programme at September's Working Group Meeting in Atlanta, Georgia, USA.
Also announced at this meeting was the result of recent elections held for the HL7 International Board of Directors and we're delighted to report that HL7 New Zealand Chair, Peter Jordan was elected to the position of Affiliate Director. Peter will become the first New Zealander to be represented on this Board when he commences a two year term on January 1st, 2020.
Further details of the Working Group Meeting, attended by a record number of 778 participants, can be found on the HL7NZ Web Site.

A record 420 attendees participated in the HL7 FHIR Connectathon #22, held in Atlanta, Georgia, USA on 14-15 September 2019. The combination of experienced FHIR developers and newcomers to the standard were divided into 38 specialist tracks varying from established areas of the specification, such as Patient and Terminology, to newer domains like genomics and major FHIR-based implementation projects notably 'Da Vinci'. It was a hugely enjoyable and successful event – both in terms of advancing the FHIR specification and continuing to build the worldwide FHIR community.


Hi Everyone – in the words of the song "spring is in the air" and this is reflected in a number of exciting new developments in New Zealand's digital health landscape. In particular, we've seen the recentpublication of two documents of major significance for the implementation of our standards; namely the Ministry of Health's
Digital, data and technology services – minimum requirements and the Interim Report of the New Zealand Health & Disability System Review.  The later, while not containing specific recommendations (these are to appear in a the Final Report tabled for next year), contains strong messages about the need for interoperability standards as a critical enabler of digital health and the former clearly articulates the need for conformance to, and compliance with, those standards.
On a practical level, HL7NZ is fully supportiveof the planned national Health Information Platform(nHIP) as a replacement for the single Electronic Health Record project and we view APIs built using HL7®FHIR® as key building blocks for this Platform. This will enable New Zealand to extend and adapt, significant work already performed overseas and recently, as part of our strong relationship with HISO, we've been pleased to recommend the use of the International Patient Summary.
Following our successful Mid-Year Seminar, we've also been busy developing a new Web Site and we're planning to update this with news and events on a regular basis. As you'll see from the banner, New Zealand is celebrating 25 years of HL7 implementation and  to mark this occasion, HL7 New Zealand will be presenting an Anniversary Award, at the 2019 HiNZ Conference in Hamilton, for "Consistent Support for HL7 Standards in New Zealand". Candidates for this award are those current Organisational Members of HL7 New Zealand, who have used HL7 standards for a significant portion of the past 25 years. An account of those years can be found here.
Digital Health Week NZ – including HiNZ Conference 2019
We're keenly anticipating New Zealand's largest digital health event and this will include a Standards Workshop featuring HL7®FHIR®and SNOMED CT®, on Tuesday 19thNovember. Once again, HiNZ had kindly provided us with a Booth (#93) in the Conference Exhibition Hall and we encourage you all to pay us a visit there. We'll also be holding our AGM at 12:30pm on Wednesday 20thNovember – all members welcome.
Further details can be found in the Conference Programme.  Registrations can be made here and HL7NZ members are, once again, eligible for the special low "affiliate member" rate.

This year New Zealand is celebrating 25 years of HL7 implementation. To mark this occasion, HL7 New Zealand will be presenting an Anniversary Award, at the 2019 HiNZ Conference in Hamilton, for "Consistent Support for HL7 Standards in New Zealand". Candidates for this award are those current Organisational Members of HL7 New Zealand, who have used HL7 standards for a significant portion of the past 25 years. An account of those years can now be found in the About—>History Page.
International: SNOMED International Business Meetings and Expo: 27 Oct – 1 Nov 2019 – Kuala Lumpur, Malaysia
New Zealand Events
SNOMED CT®  Developer Training Day: 6 Nov 2019 – Christchurch. Contact standards@health.govt.nz for free registration NOW FULLY SUBSCRIBED
 SNOMED CT® Developer Training Day: 7 Nov 2019 – Auckland. Contact standards@health.govt.nz for free registration NOW FULLY SUBSCRIBED
NZHIT hosted the one-day workshop in Christchurch, "FHIR for Implementers in New Zealand" on 29 August 2019.
The event information below is from the event website:
https://www.nzhit.nz/event/fhir-for-implementers-in-new-zealand-you-need-to-attend-this-one-day-workshop
You need to attend this one-day workshop if you're planning, undertaking or want to know more about FHIR implementation.HL7 FHIR is the healthcare interoperability standard that has achieved global recognition.It is also endorsed locally by the New Zealand Health Information Standards Organisation (HISO), along with SNOMED, as the national terminology standard.
The Ministry of Health is fully behind this initiative, prescribing FHIR as the primary interface to the nHIP programme, and with projects underway to add FHIR interfaces to the NHI and the HPI.
This free workshop is sponsored by the Ministry of Health to help increase implementer knowledge about FHIR. There is no charge for you to attend BUT you must register quick as numbers are limited to 30 attendees.
Details
This full day workshop is being held in Christchurch on Thursday 29th August 2019 and will be delivered by Dr David Hay. David has been involved with FHIR from the very beginning and is currently a co-chair of the FHIR Management Group and HL7NZ Chair emeritus.
It is intended for anyone who is planning, undertaking or wants to up their game when it comes to FHIR implementation. It is particularly for – developers, clinicians, consumer representatives, project managers or any other member of the implementation team.
You do not need previous experience with FHIR.
This will be an interactive workshop. You'll be able to get hands-on in a supportive environment so will need to bring your laptop (you just need a modern browser, such as chrome, installed).
The workshop's programme will be published closer to the time, but the following is an overview of what you'll be involved with on the day –

The morning session will include an overview of FHIR, explore more advanced topics like profiling and terminology then review the tooling available to help understand how FHIR is used to represent real scenarios, and exchange information.‍

This will lead you into the afternoon session where you'll dig deeper into the technical aspects of building FHIR clients and servers with a deep dive into the RESTful interface, including security aspects such as SMART.

You'll be able to play in a sample ecosystem that includes prototypes of the NHI & HPI interfaces as well as conformance, data, terminology and authentication servers.

You'll also have time for exercises to show just how easy it is to build with FHIR (you'll need an IDE of some sort, or a REST client, for these).
The workshop will wrap up at the end of the day with a discussion on the next steps – how can we realise the patient-centered ecosystem in New Zealand. ‍
This event is limited to 30 people, so be in quick to guarantee your place.
Venue to be confirmed in Christchurch shortly.
Thanks to –
Ministry of Health for sponsoring this event
NZHIT as the organisers
HL7NZ for their on-going support and promotion of interoperability standards