Winter 2022 Update
Kia ora koutou,
In our last update, we provided a basic outline of the agreed release plan for the next two major versions of HL7 FHIR. We can now announce that a new revision of the current R4 version (R4B) has been published and is now the current version of the Standard available at http://hl7.org/fhir. A full explanation of R4B and the changes from R4 can be viewed here.
We would be delighted to hear from any of the New Zealand Implementer Community who are planning to use R4B, particularly any of the new or changed Resources. HL7 New Zealand will decide on whether to upgrade the Terminz FHIR Server soon. This presently holds most of the local conformance resources and is gaining use as a Test Service for our Members, something we are looking at progressing with our key partners at the Digital Health Association and their Digital Interoperability Industry Group.
NZ WORK GROUP NEWS:
The HL7NZ FHIR® Implementation Work Group is continuing work on the second version of the Base NZ FHIR Implementation Guide. The current focus is on NZ profiles on data types, such as Address, and key resources such as Patient; however, we are also continuing to encourage requests for extensions that have a national scope. Weekly meetings are at 12:00 pm on Fridays. All interested parties are welcome to attend these meetings – further details are available on our Web Site.
UPCOMING EVENTS:
After nearly 3 years of virtual events, we are delighted that HiNZ is now planning to hold an in-person Digital Health Week NZ 2022 in Rotorua from 5-8 December. This will include our long-awaited joint workshop with HISO – Escape from Burning Platforms with SNOMED on FHIR.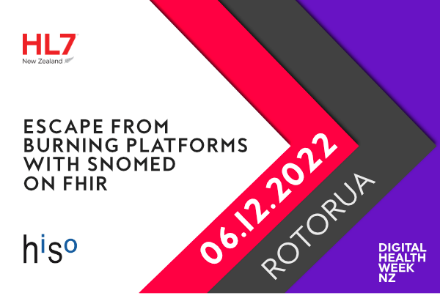 In the meantime, we are planning to re-commence our programme of Webinars in which our members showcase their implementations of HL7 FHIR. If you would like to present one of these sessions, please contact us. Later in the year, we are also hoping to provide another joint FHIR Connectathon with HL7 Australia.
Ngā mihi
Executive Board – HL7 New Zealand

Comments are closed