24 May 2023
Comments Off

on Australian & New Zealand experiences of the May 2023 HL7 International WGM in New Orleans, USA
By admin
Friday 26 May 2023 – (15:00 NZST)
Joint HL7 Australia & HL7 New Zealand webinar  
The purpose of this free webinar is for HL7 AU & NZ members and interested individuals to hear from the Australian and New Zealand delegates attending the 7-12 May 2023 HL7 International Working Group Meeting in USA.
We are also delighted to welcome again Viet Nguyen, HL7 International Chief Standards Implementation Officer on the panel.

HL7 International holds its working group meetings (WGM) three times per year. The May 2023 meeting followed a new format by including international standards and global healthcare organisations such as World Health Organisation as part of HL7's mission to strengthen its global relevance and influence. In addition to providing up to-the-minute strategic updates, the aim of these WGMs is to provide the opportunity for work groups to meet to work on standards via the more than 40 work groups dedicated to specialised areas such security, pharmacy, and patient administration.

Friday 26 May (15:00 NZST)
1 – 1.5 hours

Agenda
Welcome Reuben Daniels, Director, HL7 Australia
Speakers:

Viet Nguyen : Chief Standards Implementation Officer, HL7 International
Peter Jordan : Affiliate Director, HL7 International
Grahame Grieve : FHIR Product Director
Reuben Daniels, Co-Chairs Terminology Services Management Group & Vocabulary Work Group
John Grimes : Health Data Engineer, CSIRO
Liam Barnes: Senior Experimental Scientist, CSIRO
Sarah Gaunt: Senior Information Analyst at Lantana Consulting Group
Brian Postlethwaite (TBC):
John Carter: Chair, HL7 New Zealand

Questions and Answers from attendees to speakers
Close: John Carter, Chair, HL7 New Zealand
Follow us on Linkedin to get the latest update when we update more speaker information.
Save this webinar link into your calendar
INTERNATIONAL NEWS:

The latest version of the HL7 FHIR standard (R5) was published on March 28th. Although it contains no new normative content, and is technically a trial release, there are a significant number of new resources (giving an overall total of 158) and the maturity level of many of the most-commonly used resources has increased. We would be happy to discuss the potential use of this new release within New Zealand with potential implementers as well as receiving feedback from the broader community on the roadmap for the next major release (R6).
For those continuing to use Release 4, please note that version of the specification is now available at http://hl7.org/fhir/R4/. The R4B sub release can be found at http://hl7.org/fhir/R4B/.
NZ WORK GROUP NEWS:
Towards the end of last year, we published the second version of the HL7 FHIR NZ Base Implementation Guide. This was the result of many months of diligent work by our HL7NZ FHIR® Implementation Work Group, with broad sector representation.
This Guide contains the base FHIR implementation rules for New Zealand (Extensions, Profiles, Identifiers, and Terminologies). It is an 'abstract' artefact from which all other FHIR Implementation Guides in New Zealand may be derived, and we hope that it will continue to be a valuable resource for the local FHIR community.
As it is a 'living' artefact, work on the next version commenced last month, and the Work Group continues to hold regular, one-hour meetings on Fridays at 12:00pm. All interested parties are welcome to attend these meetings – further details are available on our Web Site.
In response to questions we receive about FHIR adoption in Aotearoa New Zealand, we recommend these sources of information…
Kiwis on FHIR on our Web Site – all additions and updates gratefully received!
Hira Marketplace (Te Whatu Ora) includes a list of APIs for key health information services, and digital services that support or help use health information and data.
UPCOMING EVENTS:
MedInfo 2023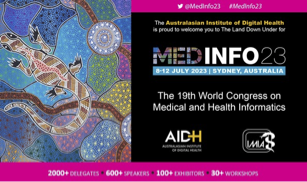 Join industry experts from around the world on standards, interoperability, data modelling and data access. Many of the various workshops and presentations will feature HL7® FHIR® and SNOMED CT®, New Zealand's key standards for interoperability, and their use in the International Patient Summary. There will also be case studies around digital health design and co-design, including artificial intelligence, health equity and digital interventions. Early Bird registrations close on 14th April 2023. We hope to see as many Kiwis as possible join HL7 New Zealand at this marquee event in the international digital health calendar.
Digital Health Week 2023
Make sure to reserve your spot at New Zealand's premier health information technology conference, Digital Health Week. HL7NZ will be presenting as part of a pre-conference workshop again this year and hosting a stand in the Exhibition Hall.


Kia ora and happy holidays 2022 from HL7 New Zealand
It's my great pleasure to wish you a happy, peaceful and prosperous end-of-year holiday season.
 
Christmas is almost here! As your newly elected HL7NZ Board Chair, I've been doing more than my usual share of reflecting on the year just wrapping up and the one about to begin. Clearly, we live in fast-moving times for health information standards development and implementation. HL7 FHIR is really taking off as the new lingua franca for sharing clinical, financial, and administrative data around the sector. Its importance has been recognised by many governments including our own, by vendors large and small, and by the thousands of implementers who contribute to the standard's ongoing development. And FHIR isn't even done yet! Version 5 is in the balloting process, and it will be a few more years before we see Version 6. All going well, I think we can expect FHIR Version 6 to really be 'done'.
 
I got to attend the HL7 International Working Group meeting in Baltimore last September. I saw an organisation revitalised by the return to in-person meetings, the election of a new slate of directors bringing fresh ideas, and the growing importance of FHIR Accelerators, where like-minded stakeholders work together (and provide the necessary funding) to solve real-world problems using FHIR. Importantly for us in NZ, HL7 International has expanded its Board to create new seats for non-US members. This will help ensure that the group's mission and our needs as Affiliates don't get lost behind the sheer size of the US contingent.
 
Here in New Zealand, we've been busy building and localising the FHIR artifacts needed to support our local implementers. The second iteration of the NZ FHIR Base Implementation Guide was published in the spring, and the HL7NZ FHIR Working Group is already stuck into the next release. Major FHIR implementations — live and still in the planning stage — in both the public and private sector signal that the disparate pieces of our health data ecosystem are joining up more and more each month.
 
Much of our momentum comes from our members, spanning public, private, and NGO enterprises. 2022 has seen the publication and updates of FHIR projects from Te Whatu Ora | Health NZ, Te Aho O Te Kahu | Cancer Control Agency, WebTools, MedTech, HealthPoint, Clanwilliam Health, and so many more. In the coming year we'll be sharing more of these good news stories. After more than a decade of hard work by our past Chairs Peter Jordan and David Hay, it feels like we don't really have to explain what FHIR is, what HL7 is, any longer. Instead, we get to help connect the dots so that NZ grows and keeps the workforce and the spirit of innovation that will allow continued progress on the difficult problems faced by our health system.
 
I feel extraordinarily privileged to follow in Peter Jordan's footsteps as HL7NZ Board Chair. He's built a smooth-running organisation, recruited a fantastic Board of Directors, and grown membership to its highest ever levels. Thank you for all the mahi you've put in! Luckily, he's stayed on as Secretary so the sage advice he's given me and so many in the sector will still be just a phone call away. We'll all miss the cheery presence and seemingly effortless coordination of our past Secretary Linda McKay, who served in that role for 20 years and is moving to the next phase of her career.
 
On behalf of the entire HL7NZ Board, please again accept our very best wishes for you and your whānau this holiday season. I look forward to working with you in 2023.
 
John Carter
Chair, HL7NZ

The 2022 HL7 New Zealand Annual General Meeting was held on Thursday 17thNovember at 3:00pm virtually via ZOOM. Six members of the previous board were re-elected along with new members Ryl Jensen (Digital Health Association) and Chris Royle (Dedalus).
The outgoing Board Members – who voluntarily stepped down after notable contributions – were Linda McKay (Secretary), Anna Marie Scroggins and Gordon Inkson. Linda, who has also been our super-efficient administrator for the past 20 years, will be assisting her replacement(s) for a while before enjoying a well-earned retirement.
The Chairman's and Treasurer's Annual Reports, presented to the Meeting, can be found in the minutes
At the first meeting of the new Board, held directly afterwards, the following officers were unanimously elected for two-year terms up to November 2024: John Carter (Chair) and Peter Jordan (Secretary). Peter Sergent (Vice Chair) and David Moorhouse (Treasurer) will continue in their roles until November 2023, having been elected to serve two-year terms in November 2021.
We have just published the second version of the HL7 FHIR NZ Base Implementation Guide. This is the result of many months of diligent work by our HL7NZ FHIR® Implementation Work Group, with broad sector representation, and passed the required Membership Ballot, held last month, with flying colours.
This Guide contains the base FHIR implementation rules for New Zealand (Extensions, Profiles Identifiers, and Terminologies). It is an 'abstract' artefact from which all other FHIR Implementation Guides in New Zealand may be derived, and we hope that it will continue to be a valuable resource for the local FHIR community.
We would also like to extend our gratitude to our members at Spark Health for kindly hosting the Guide.

All current members are invited to the 2022 Annual General Meeting of HL7 New Zealand.
This year's meeting will be held virtually via ZOOM and you are requested to advise your attendance in advance – we will then send the ZOOM log in details to you 24 hours before the meeting.
Nominations are now open for TEN Board positions and must be received no later than 10am on Wednesday 16th November 2022.
We look forward to welcoming you on Thursday 17th November 2022.
Agenda (link)
Previous AGM Minutes (link)
Board Nomination (link)
Proxy Form (link)
31 August 2022
Comments Off

on Ballot on HL7® FHIR® New Zealand Base Implementation Guide 2nd Version
By admin
The HL7 New Zealand FHIR Implementation Work Group invites you to participate in a ballot on the second version of the HL7® FHIR® New Zealand Base Implementation Guide. This FHIR R4 Resource contains the base FHIR implementation rules (notably extensions, profiles, identifiers, and terminologies) for New Zealand. It is an 'abstract' artefact from which other FHIR Implementation Guides in this territory may be derived. It is intended to be a 'living' artefact that will be enhanced and maintained, based on feedback and usage experience from the FHIR Implementation Community mainly, but not restricted, to within New Zealand.
What is an HL7 Ballot?
Balloting is the mechanism used by HL7 to allow the wider community to make comments on HL7 Standards and Implementation Guides, and for those comments to be reviewed by the authors, making updates as required. It is a mechanism to ensure fitness for purpose and broad consensus, via the following process…
There is a specific period during which comments are solicited (the 'Ballot Period') which is from Monday 29th August 2022 to Monday 12th September for this ballot.
A copy of the balloted artefact is made that will remain unchanged over the Ballot Period. This is the copy against which participants make comments.
Anyone can make a Ballot Comment, simply by adding a GitHub Issue(instructions below) to the repository where the Implementation Guide is stored.
All comments are reviewed by the Authors in an open Work Group meeting. Each comment will have an outcome (a 'Disposition') which may or may not result in changes to the Implementation Guide, after which the issue is closed. The outcome is recorded as a comment against the issue, including any rationale for the outcome, which anyone can view.
Anyone can attend the review meetings (and are encouraged to do so), but only current HL7 New Zealand (HL7NZ) members can vote on the Disposition.
Where is the Implementation Guide?
The Ballot Version of the Implementation Guide ('NZ-Base') is located here. In the first version, NZ-Base was primarily a collection of extensions which this version augments. The major new class of additional content in this version are profiles, which are listed on the 'profiles' tab. Clicking on the profile name in the first column will load the detailed description of that profile's definition. This is generated by the standard HL7 FHIR build process and has the same format as the core FHIR specification.
How to make Ballot Comments
Comments (Issues) are recorded against the source of the Implementation Guide, which is a GitHub Repository located here. Issues are on the Second Tab of the Repository.
Firstly, you will require a GitHub Account. If you don't already have one, then go to GitHub, and click the 'Sign up' link to the upper right and follow the instructions from there.
Next, browse to the Issues Page of the HL7NZ Base Repository
To the right (above the current list of issues) is a green button labelled 'New Issue'. Click that, and the new issue dialog will appear.
Each issue has a title and a description…
Enter a meaningful title for the issue. For example, "The description of 'date of death' is unclear, or 'there is a typo in the description of 'additional authorisation'.
In the description field enter the remaining details. Please include the URL of the extension definition page that you are commenting on. The contents will depend on the nature of the comment – if you are commenting on text, include the suggested text and where it applies.
There are also labels you can apply if you so wish, but these are not mandatory.
You can also elect to set up a Notification, so you are alerted to any activity on your issue. Details here
Examples of comments…
Suggested text to make the meaning of an Extension Definition clearer
A comment about the contents of an extension – for example additional elements that may be useful
A comment about the datatype of an extension – is there a better one that should be used?
A comment about the terminology used to define the contents of a coded element.
Push back against the extension itself – should it even be included? Is there an existing one that could be used instead, or is there already a core element on the resource?
Please note that only comments made against the current contents of the Implementation Guide will be considered as part of this ballot. Any suggestions for additional content, such as extensions or profiles will be deferred until the next release.
What happens to Ballot Comments after Submission?
Anyone can make a comment against your Issue (that's why notifications may be helpful) but only the HL7NZ Work Group can determine what happens to it (the 'Disposition' of the Comment). This Group meets weekly (Friday at 12 noon via ZOOM) and will consider open comments. Anyone is welcome to attend and participate in the discussion, but only HL7NZ members can vote on the Disposition. Send an Email if you require our contact details. We can't guarantee to discuss any specific issue on a particular date as this will depend on the number and complexity of comments.

This is an open, community-based, review process with complete transparency of the deliberations and the outcome. Anyone can create issues or make comments against existing ones. However, only HL7 NZ members can participate in the Disposition Vote and once made, that decision is final.

If you have any questions about this process, please contact us here.

Happy Balloting!

HL7 New Zealand FHIR Implementation Work Group
Congratulations to our Matt de Haan, Senior Developer at HL7NZ Member Webtools, for recently completing the six-week FHIR Intermediate Course. This course is designed for those already familiar with FHIR and want to dive deeper, building their knowledge of what is required to use the standard for real world projects. Matt describes his overall views of the course in a Webtools Blog Entry. We encourage anyone who wishes to learn more about FHIR to consider taking one of the HL7 International Courses. Further details can be found here. HL7 New Zealand Members receive generous discounts on all of these courses.
Kia ora koutou,
In our last update, we provided a basic outline of the agreed release plan for the next two major versions of HL7 FHIR. We can now announce that a new revision of the current R4 version (R4B) has been published and is now the current version of the Standard available at http://hl7.org/fhir. A full explanation of R4B and the changes from R4 can be viewed here.
We would be delighted to hear from any of the New Zealand Implementer Community who are planning to use R4B, particularly any of the new or changed Resources. HL7 New Zealand will decide on whether to upgrade the Terminz FHIR Server soon. This presently holds most of the local conformance resources and is gaining use as a Test Service for our Members, something we are looking at progressing with our key partners at the Digital Health Association and their Digital Interoperability Industry Group.
NZ WORK GROUP NEWS:
The HL7NZ FHIR® Implementation Work Group is continuing work on the second version of the Base NZ FHIR Implementation Guide. The current focus is on NZ profiles on data types, such as Address, and key resources such as Patient; however, we are also continuing to encourage requests for extensions that have a national scope. Weekly meetings are at 12:00 pm on Fridays. All interested parties are welcome to attend these meetings – further details are available on our Web Site.
UPCOMING EVENTS:
After nearly 3 years of virtual events, we are delighted that HiNZ is now planning to hold an in-person Digital Health Week NZ 2022 in Rotorua from 5-8 December. This will include our long-awaited joint workshop with HISO – Escape from Burning Platforms with SNOMED on FHIR.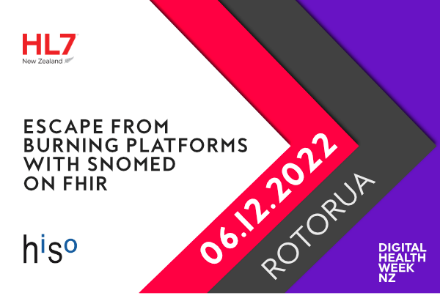 In the meantime, we are planning to re-commence our programme of Webinars in which our members showcase their implementations of HL7 FHIR. If you would like to present one of these sessions, please contact us. Later in the year, we are also hoping to provide another joint FHIR Connectathon with HL7 Australia.
Ngā mihi
Executive Board – HL7 New Zealand

Kia ora koutou,

In our last update, we invited feedback on HL7 International's roadmap for FHIR and are now able to provide a basic outline of the agreed release plan:
R5 – estimated publication in Q1 2023 – will be a 'Trial Use' version with no new normative content
R6 – estimated publication in Q1 2026 – will be a major release with additional normative content
This effectively means that all new and changed content in R5 will be potentially subject to change, however all the existing normative content in R4 remains as such. Our expectation is that New Zealand will continue to use R4 for the foreseeable future, but we will provide help to any members wishing to add new elements, to existing resources, by way of extensions.
 
UPCOMING EVENTS:
We are pleased to confirm that this year's first joint HL7 FHIR Connectathon with HL7 Australia will be a virtual event held on April 27-28, with a particular focus on Terminology Services, including integration with the New Zealand National Terminology Server. Further details and registrations are available here.
 
As those of you who attended last week's Virtual HiNZ Conference will be aware, HiNZ is now planning to hold an in-person Digital Health Week NZ 2022in Rotorua from 5-8 December. We are hoping that this will include our long-awaited joint workshop with HISO – Escape from Burning Platforms with SNOMED on FHIR. Confirmation and the exact timing of the workshop will be available in due course.
 
In the meantime, we are planning to re-commence our programme of Webinars in which our members showcase their implementations of HL7 FHIR. If you would like to present one of these sessions, please contact us.
 
ANNOUNCEMENTS:
The Board would like to acknowledge last week's successful re-branding of one of our key partners NZHIT to the Digital Health Association and we encourage you to visit their excellent new Web Site. Their Digital Health Enablers Special Interest Group also has a new title – the Digital Interoperability Industry Group – and HL7NZ continues to play an active part in this in Group.
 
NZ WORK GROUP NEWS:
The HL7NZ FHIR® Implementation Work Group has commenced work on the second version of the Base NZ FHIR Implementation Guide. The current focus is on NZ profiles on data types, such as Address, and key resources such as Patient; however, we are also continuing to encourage requests for extensions that have a national scope. Fortnightly meetings are at 12:00 pm on Fridays.  All interested parties are welcome to attend these meetings – further details are available on our Web Site.
 
Ngā mihi

Executive Board – HL7 New Zealand