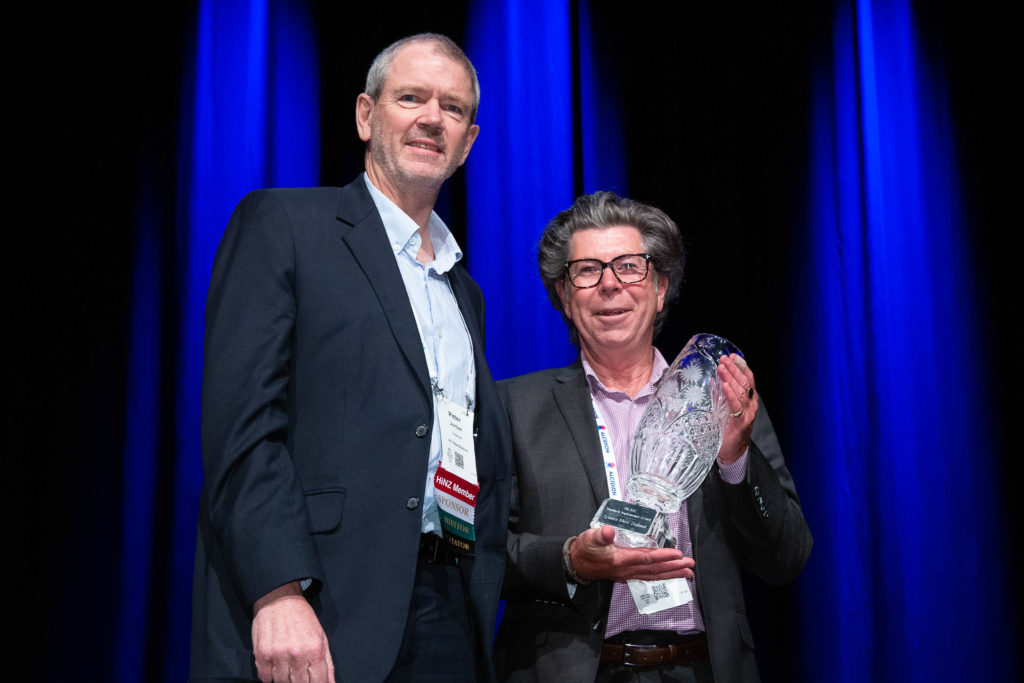 HL7NZ 25th Anniversary Award was presented to Sysmex New Zealand as part of the Digital Health Week which took place at Claudelands Events Centre in Hamilton 19-22 November. HL7 standards have been used in New Zealand for 25 years and throughout that period, Sysmex New Zealand has consistently implemented these standards in their products, evangelised HL7 standards in the broader New Zealand digital health community and offered continuous support for the local HL7 Affiliate – known, since 2004, as HL7 New Zealand.


The 2019 Annual General Meeting was held on Wednesday 20th November at 12:30 pm at the Claudelands Event Centre, Hamilton, during Digital Health Week NZ.  Eleven of the previous Board Members were re-elected along with Koray Atalag (The Clinician) who replaces Graeme Hibbert. The Chairman's Annual Report, presented to the Meeting, can be found here.
At the first meeting of the new Board, held directly afterwards, the following officers were unanimously elected for two year terms: Peter Sergent (Vice Chairman) and David Moorhouse (Treasurer). Peter Jordan (Chairman) and Linda McKay (Secretary) will continue to serve in their current positions having been elected for two year terms in November 2018.
According to the Microsoft Azure blog article on 21 October 2019, The Azure API for FHIR® is released in general availability to all Azure customers, with which a developer, researcher, device maker, or anyone working with health data is empowered with a turnkey platform to provision a cloud-based FHIR service in just minutes and begin securely managing PHI data in Azure.


HL7 New Zealand – Press Release: September 30, 2019
HL7 New Zealand is pleased to announce that one of its founding members, Martin Entwistle, has been elected as a Fellow of HL7® International in recognition of his outstanding commitment and sustained contribution to HL7 International over a fifteen-year period. Martin was inducted into the HL7 Fellows Programme at September's Working Group Meeting in Atlanta, Georgia, USA.
Also announced at this meeting was the result of recent elections held for the HL7 International Board of Directors and we're delighted to report that HL7 New Zealand Chair, Peter Jordan was elected to the position of Affiliate Director. Peter will become the first New Zealander to be represented on this Board when he commences a two year term on January 1st, 2020.
Further details of the Working Group Meeting, attended by a record number of 778 participants, can be found on the HL7NZ Web Site.


Hi Everyone – in the words of the song "spring is in the air" and this is reflected in a number of exciting new developments in New Zealand's digital health landscape. In particular, we've seen the recentpublication of two documents of major significance for the implementation of our standards; namely the Ministry of Health's
Digital, data and technology services – minimum requirements and the Interim Report of the New Zealand Health & Disability System Review.  The later, while not containing specific recommendations (these are to appear in a the Final Report tabled for next year), contains strong messages about the need for interoperability standards as a critical enabler of digital health and the former clearly articulates the need for conformance to, and compliance with, those standards.
On a practical level, HL7NZ is fully supportiveof the planned national Health Information Platform(nHIP) as a replacement for the single Electronic Health Record project and we view APIs built using HL7®FHIR® as key building blocks for this Platform. This will enable New Zealand to extend and adapt, significant work already performed overseas and recently, as part of our strong relationship with HISO, we've been pleased to recommend the use of the International Patient Summary.
Following our successful Mid-Year Seminar, we've also been busy developing a new Web Site and we're planning to update this with news and events on a regular basis. As you'll see from the banner, New Zealand is celebrating 25 years of HL7 implementation and  to mark this occasion, HL7 New Zealand will be presenting an Anniversary Award, at the 2019 HiNZ Conference in Hamilton, for "Consistent Support for HL7 Standards in New Zealand". Candidates for this award are those current Organisational Members of HL7 New Zealand, who have used HL7 standards for a significant portion of the past 25 years. An account of those years can be found here.
Digital Health Week NZ – including HiNZ Conference 2019
We're keenly anticipating New Zealand's largest digital health event and this will include a Standards Workshop featuring HL7®FHIR®and SNOMED CT®, on Tuesday 19thNovember. Once again, HiNZ had kindly provided us with a Booth (#93) in the Conference Exhibition Hall and we encourage you all to pay us a visit there. We'll also be holding our AGM at 12:30pm on Wednesday 20thNovember – all members welcome.
Further details can be found in the Conference Programme.  Registrations can be made here and HL7NZ members are, once again, eligible for the special low "affiliate member" rate.

This year New Zealand is celebrating 25 years of HL7 implementation. To mark this occasion, HL7 New Zealand will be presenting an Anniversary Award, at the 2019 HiNZ Conference in Hamilton, for "Consistent Support for HL7 Standards in New Zealand". Candidates for this award are those current Organisational Members of HL7 New Zealand, who have used HL7 standards for a significant portion of the past 25 years. An account of those years can now be found in the About—>History Page.
"And so this is Christmas
and what have you done?"Is question posed by one of the most widely-played songs at this time of the year. In response, I could reflect upon another productive year for our Affiliate and indeed did do so in my recent Chairman's Report to the HL7 NZ Board.

Certainly, from an International viewpoint, it's been a year of terrific progress. HL7® FHIR® continues to take the outside world by storm and its adoption by "Tech Titans" (such as Apple, Google & Microsoft), major overseas Health IT Vendors and Government Digital Health Agencies grows by the month. We now await the upcoming Release 4 which will contain the first normative content. The progress of the FHIR Project, including the significant part played by HL7NZ members, is detailed in the Reports from the International Working Group meetings that we've attended this year. Outside of these meetings, HL7NZ members have participated in a number of key working groups, often in co-chair positions, including a collaboration project between HL7 International and SNOMED International – not surprisingly known as 'SNOMED on FHIR'.

So far, so good – but what's this year's key health information interoperability message from Aotearoa? Well, we've delivered events focussing on practical usage of these standards and attempted to engage the implementer community as best we can to facilitate the interoperable use of FHIR. Throughout the Sector as a whole, there have been numerous analogue conversations around and about digital health issues, but very little discernible progress on interoperability – particularly in terms of creating the open APIs that might facilitate secure and appropriate access to healthcare information for the new generation of bespoke healthcare apps. O Data Portability where art thou?

This frustrating state of affairs was neatly encapsulated in an entertaining story told by a hospital emergency department doctor at last month's HiNZ Conference. The punch line involved the husband of an overseas patient photographing a printed discharge summary on his mobile phone and then ripping up the paper copy having established that no digital information could flow between the FHIR API on his phone and any software application or device at the hospital. The stuff of future comedy sketches perhaps – like expectant Americans seeking international class service in 1970s Britain?

A further reminder of the distance between our nascent digital health strategy and cold reality came a fortnight later as I completed a four page paper form at a DHB Skin Lesion Clinic detailing everything available at the click of a button in my primary care portal. The later would be invaluable to any clinician, although those of us without medical qualifications might prefer to download this information, via (of course) a FHIR API, to be presented, in consumer-friendly fashion, by a health and wellness app of our own choice.

At the HL7NZ events we've uncovered a non-trivial amount of usage of FHIR APIs, but mainly in restricted two-party exchanges and our attempts at further engagement have often met with a stony silence from the custodians of our health data silos: FHIR behind 'closed doors'. Let's hope that some of these barriers will be removed in 2019 and we can utilise FHIR to make interoperability easier and cheaper to implement.

Finally, on a more festive, note, I'd like to extend sincere thanks to all of our members and benefactors (notably the Digital and Data Services Team at the Ministry of Health) for their support in the past year and I hope that you and your families all enjoy a well-earned Christmas and New Year break. I look forward to continuing to work together with you on the seemingly long road to interoperable health information in 2019.

Seasons' Greetings

Peter Jordan, Chairman HL7 New Zealand
December 16, 2018
HL7 New Zealand is pleased to announce that our Chair Emeritus, Dr David Hay, has been elected as a Fellow of HL7® International.  David is the first New Zealander to receive this honour which recognises his outstanding commitment and sustained contribution to HL7 International over a fifteen-year period, most recently as a Co-Chair of the HL7® FHIR® Management Group and creator of the popular ClinFHIR Tool.
David was inducted into the HL7 Fellows Programme at last week's Working Group Meeting in Baltimore, Maryland, USA where the major focus was on preparations for the upcoming Release 4 of FHIR, the first to contain normative content. Further details of this highly-significant work can be found in FHIR Product Director, Grahame Grieve's meeting report at HERE.
To better serve you and the greater FHIR community, HL7 is gathering information about FHIR usage worldwide. Your responses to a brief survey will help us guide the development of the FHIR standard in the coming years to ensure that your needs are being met. Please find the survey here
HL7 New Zealand – Autumn 2018 Update:
Since our last message at Xmas, we hope that you all enjoyed a good break and managed to enjoy or record summer temperatures. It's been a very busy start to 2018 for both Health Level Seven International (HL7®) and our local affiliate HL7NZ, starting with the January Working Group meeting in New Orleans. A Full Report is available on our Web Site – suffice to say here that preparations for Release 4 of the HL7® FHIR® specification in October of this year are still well on track and the number of implementations of this ground-breaking standard is growing exponentially.
The HL7NZ Executive Board met recently and agreed a strategy based on 'practical interoperability' for the coming financial year. This includes confirmation of an exciting Event Calendar for the remainder of 2018, commencing with…

HL7NZ in Collaboration with The University of Auckland, announce the…
2018 "Developers on FHIR" Challenge
For those wishing to learn or demonstrate practical solutions development skills, using the 'game-changing' HL7® FHIR® standard, this event is underway and finishes with a full-day at the University of Auckland on Saturday 17th March. You will also get to rub shoulders with FHIR experts and others working in this field. Prizes will be awarded for the top three submissions as judged by health sectors leaders! If you are an application architect, usability designer, developer or clinician working in the Health and Disability Sector – or a student with an active interest in digital healthcare – this event is for you! Click here to REGISTER and gain more information – it is not too late to enter and participate. For regular updates go to…HL7NZ FHIR Chat Site
Further 2018 Event Plans (save the dates):
Monday 18th June – 9:00 am to 5:00 pm
Novotel, Auckland Airport
HL7® FHIR® and SNOMED CT® Implementation Showcase
An opportunity for developers of digital healthcare applications, based on HL7® FHIR® and/or SNOMED CT®, to present their work and discuss their experiences in implementing the key interoperability standards underpinning the NZ Digital Healthcare Strategy.
Tuesday 20th November – 9:00 am to 5:00 pm (pre-HiNZ 2018 Conference Workshop)
TSB Arena / Shed 6, Queens Wharf, Wellington
HL7® New Zealand FHIR® Connectathon
New Zealand's first 'official' HL7® FHIR® Connectathon will be an interactive event in which participants can test their FHIR implementations, parts of the specification itself, or simply learn more about the most important new standard in healthcare information interoperability. The hands-on nature of the event encourages attendees to pass data, via APIs, between client applications and FHIR servers, plus utilise cloud-based testing services. The Connectathon will be divided into 'streams' that will focus on specific topics of interest to the NZ Sector, such as patient access & case management, terminology and health pathways.
If you would like to see particular topics/issues discussed at these events please contact us admin@hl7.org.nz and if you are not already a member see www.hl7.org.nz we welcome your involvement.